As of today, 8 April, people on the Isle of Man have been required to stay at home for all but "essential" reasons – with "essential" defined very narrowly. Little consideration of the different needs and different circumstances that people on the Isle of Man are facing.
Two weeks ago – before the forced-stay-at-home edict came into place in the Isle of Man – a local resident parked his car out the front of my house. I happened to be in the street at the time, and we got to talking (from a distance!). He told me how he had just left his home to get some space and to clear his mind. He was stressed. He was under pressure living in close confines with his partner and his child. He was in a small apartment. He was under pressure. This was before he was forced to stay at home for all but essential purposes.
We need to be honest about the benefits and costs of the current restrictions. The current restrictions are probably playing a big role in reducing the transmission of disease, but the lockdown is also causing significant harm across our community. I've written previously about the risk of domestic violence, but there are also the pressures of mental health, the pressures of economic difficulty and the pressure of physical health and fitness. Those harms are now coming to bear, with the BBC reporting "domestic dispute callouts up 70%" since the lockdown began.
We can be smarter about the restrictions, to reduce the costs of the lockdown while maintaining the benefits that we have. We need to do this because we want to combat the spread of the virus, and the Manx Government is now projecting that the disease will get substantially worse than it is today, with the Department for Health and Social Care planning for more people to get infected every day from now until sometime in late May. If we are going to impose these restrictions on Manx life for several weeks to come, we should make some sensible adjustments to make them more bearable. This will improve our fight against the disease, as more people will be able to comply.
That said, let's also recognise how well the Manx people have been complying with what has been asked of them to date. It is clear to me the heroism of the community of Mann in responding to the Coronavirus disease has been remarkable – in many quietly courageous ways that are not obvious at first glance:
Currently, there are members of our community who do not have much savings, and did not have high income, staying at home and sacrificing their financial security for people they have never met. They are sacrificing their own comfort and their own financial safety for the benefit of people who live elsewhere on this island. So many of these people will never get a thank you for their losses – but rather, they'll be called once more to go back to work to put bread on the table for their families.

March 31, 2020
Thus, with around two weeks of lockdown now-completed, it is time to adjust the lockdown to improve its effectiveness. As one Manx resident wrote, "99.9% of people support the efforts of @IOMGovernment to lockdown the island and prevent the spread of #COVIDー19 the borders have been sealed, the shops bars and restaurants closed, car journeys stopped – it has all come at great personal cost to many people."
The current restrictions are not perfect, but we can improve the effectiveness of the lockdown by learning from what other places are doing. We should move from a message of "stay at home" to a message of "stay alone".
Reduce the risk of domestic violence
This is what I wrote almost two weeks ago. We should still do this. It is madness that the Isle of Man hasn't done this yet. We have empty spaces in the form of tourism accommodation, and our community should allow their use to reduce the risk of domestic violence.
Follow Guernsey in allowing rotational sharing of common spaces
This explanation from Guernsey requires no further explanation: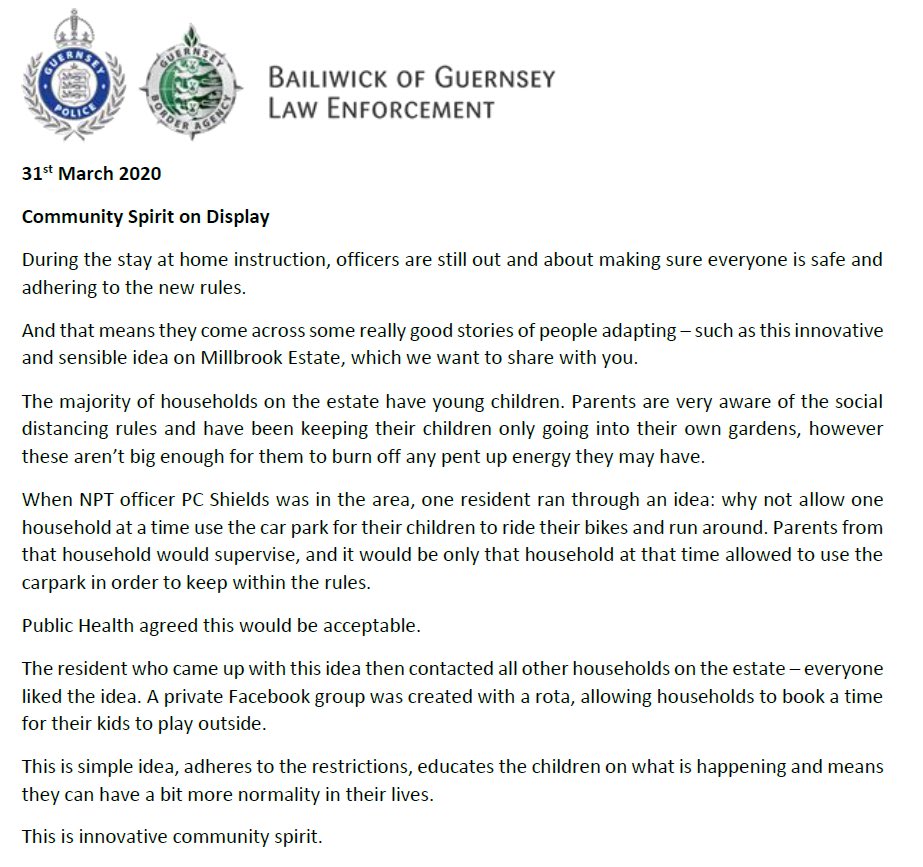 Allow a broader definition of solitary exercise
Each restriction has costs and trade-offs, so we need to be honest about the costs and benefits. Staying alone reduces the transmission of disease, so let's maintain that aspect of the rules. But fishing alone can also be good for people. Playing golf alone can also be good for people. Sitting alone outside can also be good for people – and not everyone has a garden at home. We should remember the goal here is to avoid the transmission of disease, not to treat Manx people as prisoners.
Sitting alone, playing golf, and fishing can be done alone, and can be done safely without spreading the disease.
These improvements are important because if we are going to be imposing these restrictions over many weeks ahead, they will likely increase compliance with the rules.
Prior to the courses closing, clubs and facilities were told that the vast majority of golfers were allowed to continue playing as "in general, golf is a healthy pursuit played in the open air."

Measures like taking rakes out of bunkers, banning handshakes, banning touching the flag and taking bins and ball washers out of play were put in to help with the social distancing guidelines.

Could we see that or something similar again in a couple of weeks?

Quite possibly.

Golf Monthly, 1 April 2020
Allow solitary workers to work out of their homes
Some jobs are performed alone. For example, prior to the Coronavirus lockdown, a man was employed painting a railing along Douglas Quay. That job was done alone. There was no one else around him. There's no meaningful risk of him infecting anyone else (or getting infected). He should be allowed to work, so that he can continue to earn money for his family, and so that he and his family can spend money at other local Manx businesses.
Similarly, while there are genuine risks about people performing work where there are multiple people on site (for example, in a stereotypical office) there should not be big risks in people conducting work alone. Let Manx people work if they are the only person on their site.
Follow the British plan to issue "immunity passports"
Obeying the lockdown is important for those people who are risk of contracting the disease, and those people who are at risk of spreading the disease. Those people who have had the virus and have got sufficient antibodies are not at risk of doing either. We should allow those people to return to their "normal" life as much as possible.
The UK Government has already publicly discussed this:
The UK plans to roll out "immunity passports" to people who have already contracted COVID-19 to allow them to return to "normal life," the Health Secretary Matt Hancock said on Thursday.

"We are looking at an immunity certificate," Hancock said at a Downing Street press conference.

"People who have had the disease have got the antibodies and then have immunity can show that and therefore get back as much as possible to normal life."

Business Insider, 3 April 2020
Allow couples who live apart to see each other
There are probably more Manx people living alone today than ever before. In ordinary times, that's not a huge problem: people can normally socialise with others at work, at sport, and elsewhere. Obviously, these are not ordinary times, and the loneliness in these times can create a lot of stress on people. Humans are social creatures, and romance is an essential part of human life.
The state of Victoria, in Australia has amended their rules in a common sense way to manage the risk, in a move that drew support from their Police:
Victorian Chief Health Officer Prof Brett Sutton said there would be an exemption for couples living apart.

"Regarding 'Stay at Home' rules: We have no desire to penalise individuals who are staying with or meeting their partners if they don't usually reside together," he said.

"We'll be making an exemption."

[Police] Minister Neville said the ban was being amended in a "common sense way".

Herald-Sun, 2 April 2020
Not only will this ease the loneliness that some people are feeling on the Isle of Man, but it may have the surprising consequence of reducing risk, as leading American economist and thinker Tyler Cowen explains:
Let us assume that you, for reasons of choice or necessity, are spending time in close quarters with another person. You are then less inclined to visit corona-dangerous locations. In part you are altruistic toward the other person, and in part for selfish reasons you do not wish to lower the common standard of care. If you go to a dangerous location, the other person might decide to do the same, if only out of retaliation or frustration.

In essence, by accepting such a tethered pair relationship, you end up much closer (physically, most of all) to one person and much more distant from the others. You are boosting your locational extremes.

The physically closer you are to the other person, the more easily you can tell if he or she is breaking the basic agreement of minimal risk. That tends to make the tethered pairs relatively stable. Monitoring is face-to-face!

Tethered pairs also limit your mobility, because each of the two parties must agree that the new proposed location is safe enough.

Tyler Cowen, 4 April 2020